Watersheds are interconnected systems of rivers and streams that drain into the same body of water. Water from a small creek can travel dozens of miles and drain into a larger river or lake. As a result, watersheds collect runoff and pollution from many human activities. Water is vital for life on earth, and yet the EPA estimates that that 55% of the nation's flowing waters are in poor biological condition. Fortunately, there are many groups collaborating to combat the issue of declining water quality.
OSMRE's Watershed Cooperative Agreement Program, established in 1999, gives out an average of $1.3 million each year to nonprofits focused on watershed health and restoration. Funding for each project is capped at $100,000 and goes towards efforts to treat acid mine drainage in local communities. Since its inception, WCAP has allocated approximately $23 million to watershed groups across the country.
Community members have practical knowledge of what their local environment needs and are best positioned to provide solutions. This year on World Water Day, we bring attention to the amazing work being done on the ground by local citizens through WCAP by highlighting three projects that were completed in 2022.
Pennsylvania – Pinkertons Run
Underneath the lush greenery of the Pittsburgh Botanic Garden lies an abandoned coal mine. The land, located in Settlers Cabin Park, was deep mined in the early 1900s, then surface mined in the 1950s and 1960s.
Although the botanical gardens remediated many of the environmental effects, pollution from the abandoned, underground mine still escaped into a nearby stream, known as Pinkertons Run. In 2014, the Alleghany County Parks Foundation partnered with Trout Unlimited to assess the stream and discovered that fish were being heavily impacted by the polluted runoff. With funding from WCAP, the Parks Foundation and partners designed a passive treatment system to clean the polluted mine drainage and improve the waterway.
Here's how it works. Acid mine drainage is collected from decades-old pipes and funneled into the treatment system's limestone bed. Limestone is alkaline, which makes it great at neutralizing acidity and removing aluminum. Clean water is then discharged to Pinkertons Run while the aluminum-rich solids are collected in a settling pond, where the metals to sink to the bottom instead of entering the stream.
Not everything was smooth sailing, though. 2018 was an especially wet year in Western Pennsylvania, which caused heavy mine drainage flow and almost four times as much pollution to discharge from the mine. "The original system was supposed to be 800 tons of limestone, and we had to double that amount," said Bob Hedin of Hedin Environmental, the treatment system designer for the project. "Luckily, OSMRE was very generous and was willing to increase their funding for the project to account for these changes."
Despite the challenges, Hedin is happy with the results. "It's the kind of place people will come and visit. There's a lot of trails through the park, and it'll be a much nicer spot for recreation now," he said.
Before the project, the pH of the acid mine drainage was around 3.0; that's about as acidic as orange juice. Only two months after completing the project, the pH has increased to a neutral 7.0, and Pinkertons Run no longer receives toxic inflows of aluminum.
"There hasn't been fishing in this park for more than 100 years," said Hedin. "Now, we're thinking we might be able to stock the stream in the next two years. It's truly an amazing accomplishment."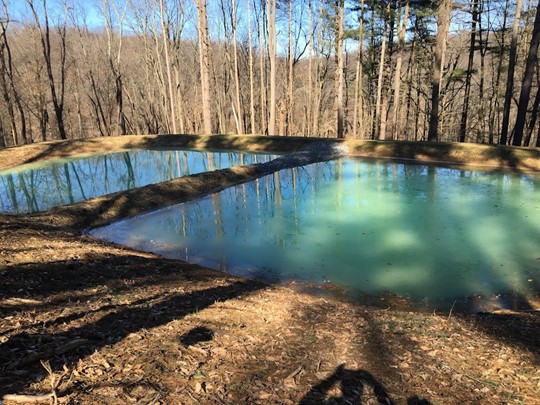 Iowa – Pleasant AML Site, Fees n Law AML Site
Although many think of Appalachia when they think of coal, the Midwest also has an extensive history of surface mining. Iowa has over 350 abandoned mine land sites across the state that pose serious environmental and health risks to nearby communities. Luckily, there are a number of nonprofits trying to combat this issue. Pathfinders RC&D, founded in 1978, has been involved with WCAP since 2006 and has completed around 62 projects in Iowa.
Many of the projects Pathfinders works on are located on privately owned land. "A lot of these sites belong to local farmers, whose livestock relies on water from these sites," said Blake Lough, AML coordinator for Pathfinders RC&D. "One farmer had cows who were miscarrying, which we suspect is a result of the poor water quality." Acid mine drainage thus has implications for family livelihoods, and the agricultural sector as a whole.
In 2020, Pathfinders began work on the 56.4-acre Fees in Law site in Marion County, which directly impacts a tributary to the Cedar Creek. Along with WCAP, the Iowa Department of Agriculture and Land Stewardship helped with a large chunk of the project. Acid mine drainage was seeping out from spoil piles, large masses of waste rock accumulated during the mining process. "The ground is so fragile, coarse, and acidic that it doesn't promote growth. It basically feels like a desert out there," said Lough.
Reclaiming the site involved reshaping the landscape, managing water runoff, neutralizing the soil and establishing vegetation. This was achieved through terracing to stabilize dangerous highwalls, as well as covering the ground with limestone and mulch to reduce soil pH. The project also used constructed wetlands to remove metals like iron and manganese. A similar approach was also employed at another location, the Pleasant AML site in Lucas County, which finished construction in September of 2022.
"I've been in construction for probably 20 years now, but the work being done by the state of Iowa and their partners to improve water quality is some of the best that I've been involved with," said Lough. "Water quality is our future, so it's time we start taking care of it. WCAP really helps smaller organizations that don't necessarily have the funding to do bigger projects—it allows them to partner with different organizations and really creates a group effort."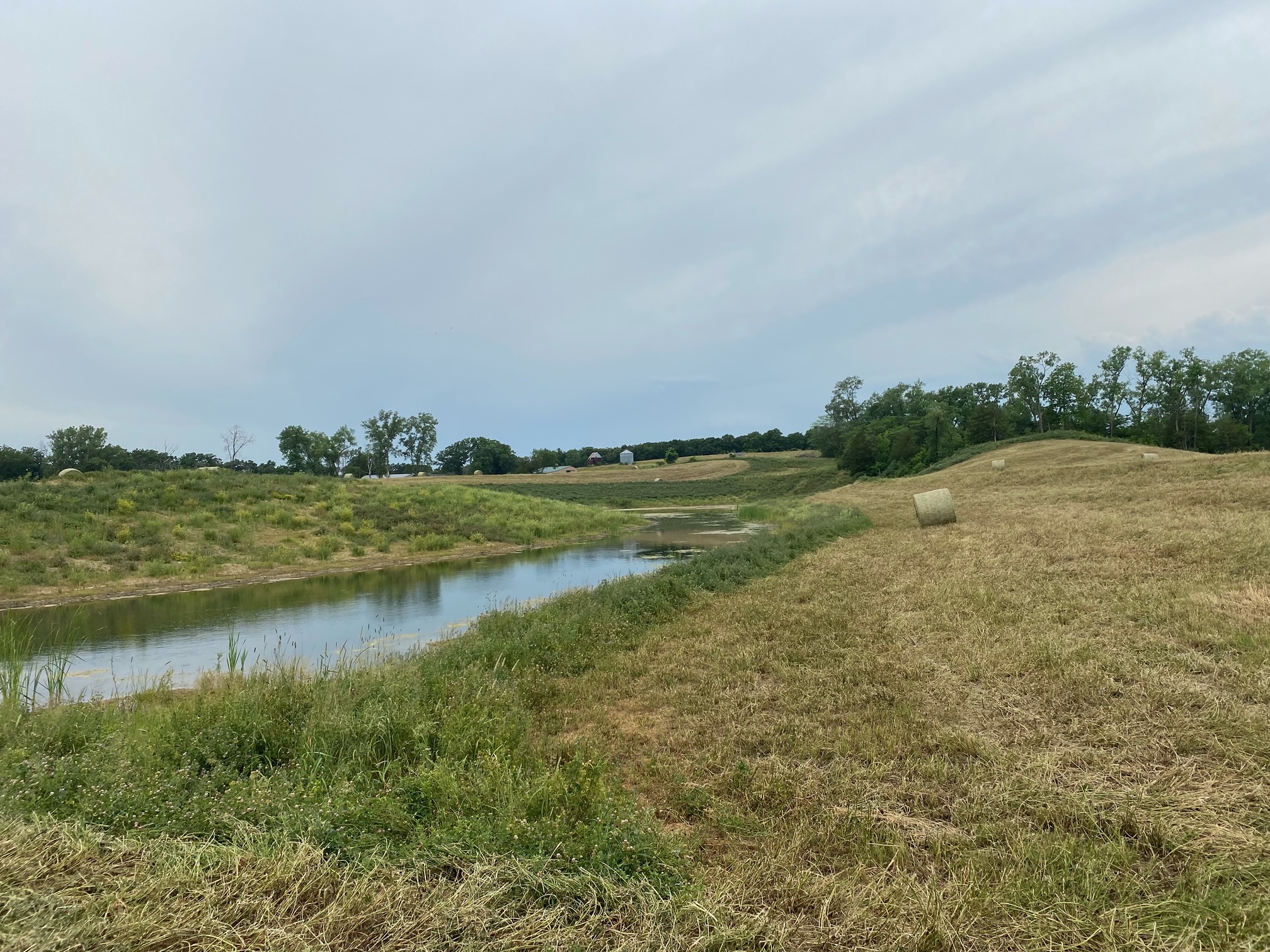 West Virginia – Beaver Creek (Unnamed Tributary)
West Virginia is perhaps best known for its role as one of the nation's top coal producers. Coal accounts for 91% of the state's total net energy generation , which makes acid mine drainage a critical issue in the state. Streams in this area have had a tough time. The geology of certain watersheds was also vulnerable to acid rain, which eroded what small amount of buffering capacity they had.
Beaver Creek is a small tributary of the Cheat River and one of just a few to hold trout due to legacy pollution from acid mine drainage. Friends of the Cheat, a local nonprofit, decided to target the creek as part of their watershed-based approach, in which whole sections of a watershed are treated before moving to another segment. The organization has worked with WCAP numerous times and considers these projects to be the bread and butter of their restoration program.
The treatment system implemented is similar to others mentioned in this article, with a limestone bed to reduce acidity and a settling pond to remove any remaining metals. Water enters the system a vibrant orange and exits crystal-clear.
The project's success can be felt everywhere from the local ecosystem to the landowners whose property the treatment system operates on. "Like many folks in West Virginia, this is a piece of land that's been in their family for generations," said Madison Ball, conservation program director at Friends of the Cheat. "They have always thought that it was a shame that this water isn't good for any of the wildlife or even their own livestock to drink. I think they were excited to see it cleaned up, and I know anecdotally we've seen amphibians coming and using the settling pond, just knowing that the chemistry has improved enough for that."
Slowly but surely, the efforts of groups like Friends of the Cheat are being felt all over the region. Friends of the Cheat worked with a local university to do a fish survey in Beaver Creek and found populations of brook trout at the headwaters. Other monitoring efforts revealed that areas downstream of previous treatment sites met water quality standards 90-100% of the time, according to Ball, qualifying them to be removed from the impaired streams list.
 "The Cheat River was not somewhere you wanted to swim in the past. People would make jokes that if you cast a line out here, you're not going to catch anything. And now, people are catching walleye and small mouth bass. The story is starting to spread that this is a nice place to live and to recreate," Ball said.
Ball feels that WCAP has play an important role in bringing the Cheat River back to what it was centuries ago, before coal mining plowed through the West Virginia landscape. "Looking at pictures of the Cheat River in the 1970s and 80s when it was orange, versus now, and knowing we have almost 40 species of fish back is a massive reward," she said. "It really feels like it's been reborn."