Appalachian Regional Reforestation Initiative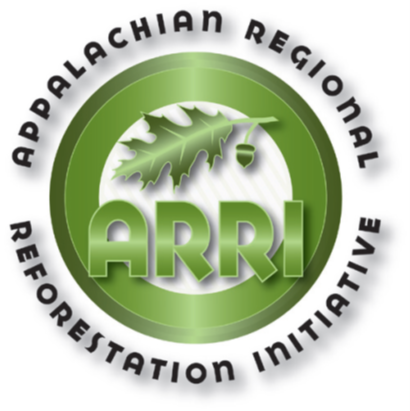 The Appalachian Regional Reforestation Initiative (ARRI) is a coalition of groups, including citizens, the coal industry, and government dedicated to restoring forests on coal mined lands in the Eastern United States.
ARRI is a cooperative effort between OSMRE, state agencies in Alabama, Kentucky, Maryland, Ohio, Pennsylvania, Tennessee, Virginia, and West Virginia, industry partners, environmental organizations, academia, and landowners.
ARRI advocates using a technique known as the Forestry Reclamation Approach (FRA) to plant trees on coal mined lands. Highly productive forests can be created on reclaimed mine lands under existing laws and regulations by using the Forestry Reclamation Approach.
ARRI works on three categories on mine lands; Active Mining Operations, AML projects (Abandoned Mine Lands), and Legacy Sites (previously mined and reclaimed sites where reforestation opportunities exist). 
ARRI FRA Planting Sites within Appalachian Regions 1 and 2
Upcoming Tree Planting Events
Are you interested in attending an ARRI tree planting event this spring? Events will be taking place across the Appalachian Region.
View the 2022 Legacy Site Tree Planting Schedule.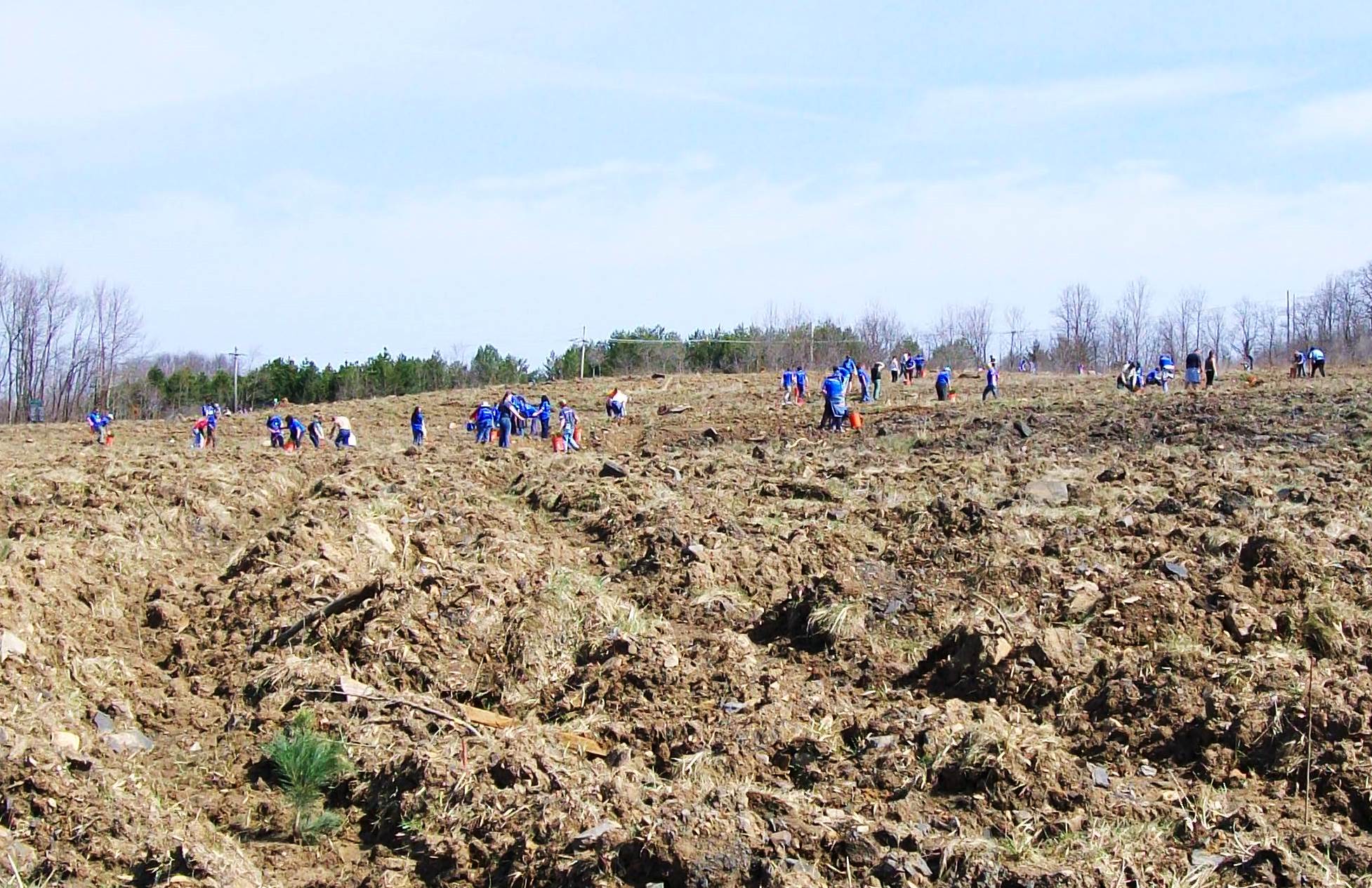 The goal of ARRI is to:
Plant more high-value native trees on coal mine lands in Appalachia

Increase the survival rates and growth rates of planted trees

Expedite the establishment of forest habitat through natural succession
Why is ARRI important?
Trees are a renewable resource and a good investment. High-quality timber can offer substantial revenue for landowners and job opportunities for local residents. 
Trees are environmentally important. They minimize soil erosion, remove carbon dioxide from the air, provide wildlife habitat and diverse plant species, and help to conserve water resources. 
Reforestation restores our forests which are important recreational areas for hunting, hiking, mountain biking, camping, bird watching, backpacking, and ATV riding.
ARRI seeks to change the existing Cultural, Technical, and Regulatory barriers surrounding the forestry reclamation of coal mined lands.
Cultural: 

change the perception that tree planting is more expensive and riskier than conventional reclamation, provide education on the impacts of compaction, and change the perception of what good forestry reclamation should look like

Technical: 

eliminate excessive surface compaction, ground cover competition, and inappropriate growth medium; plant high value native trees

Regulatory:

 change the perception that regulations impede effective reforestation techniques and interfere with bond release
ARRI is "looking forward," working diligently to educate and train the active mining industry and regulatory personnel about the Forest Reclamation Approach (FRA) and the ways to reclaim surface coal mines to mitigation past and future disturbances to forests.
ARRI is also "looking backward" at the estimated 1 million acres of non-forested, bond released mined lands that could be available for reforestation in the Eastern US. The reforestation guidelines developed by ARRI Scientists are being applied by ARRI to selected mined sites for restoring mined land to native forests.  Starting in 2009, ARRI has partnered with state and federal agencies, watershed groups, coal operators, conservation groups, environmental organizations, faith-based groups, and numerous universities, colleges, and high schools to coordinate volunteer tree planting projects/events throughout Appalachia. 
These events involve ARRI partner organizations, volunteer and professional tree planters, and result in the planting of trees on previously reclaimed mine lands where reforestation opportunities exist.  ARRI's role in these endeavors is to facilitate communication, provide technical assistance, and to match funding sources with suitable mined land and volunteer groups.  ARRI foresters coordinate site selection and evaluation, herbicide treatments, ripping activities, species selection, tree planting, and follow-up surveys. ARRI's main fiduciary on legacy sites is Green Forest Works. 

This post-reclamation reforestation effort has the additional benefit of outreach and awareness that is being created for proper mine land reforestation with the public, industry, and regulatory authorities.  Reforestation efforts, including ripping and tree planting, with several mining companies on their previously reclaimed mine lands have led them to embrace the FRA on their active mining operations. Many state and federal regulators involved in the volunteer tree planting projects have expressed positive attitudes for the forestry post-mining land use and employing the FRA on the 'front-end' of the reclamation process instead of as an 'after the fact' process.

After a few years of piecing together tree planting projects with donated trees, in-kind services, volunteer tree planters, and very limited funding, the ARRI tree planting events have evolved into large scale projects funded by grants, cost share programs, utility companies seeking carbon credits and corporate donations. Most of this funding is used for site preparation, tree seedings, and planting.
Learn more about reforestation here: Reforestation Guidelines for Surface Mined Lands in the Eastern United States 460-144.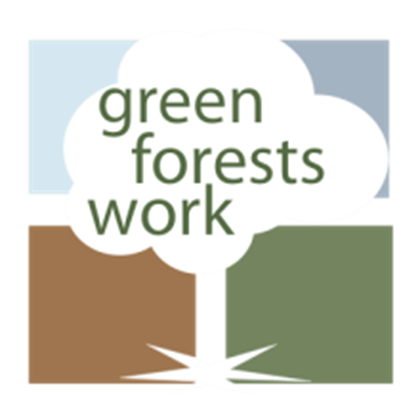 ARRI Advocates Using the Forestry Reclamation Approach (FRA) to Reclaim Coal Mined Lands
The 5 Steps of the FRA:
Create a suitable rooting medium for good tree growth that is no less than 4 feet deep and comprised of topsoil, weathered sandstone, and/or the best available material

Loosely grade the topsoil or topsoil substitutes established in step one to create a non-compacted growth medium

Use ground covers that are compatible with growing trees

Plant two types of trees – 1) early succession species for wildlife and soil stability, and 2) commercially valuable crop trees

Use proper tree planting techniques
The FRA technique described above is based on the forestry research and scientific studies of several leading universities.  Current Federal and State regulations support the FRA technique for establishing forests as a post-mining land use. ARRI has determined that when FRA is implemented, bond releases are not delayed. 
State Nurseries
Kentucky Department of Natural Resources
Division of Forestry
627 Comanche Trail
Frankfort, KY 40601
Phone: (502) 564-4496
Fax: (502) 564-6553
Website
Maryland Department of Natural Resources 
3424 Gallagher Road
Preston, MD 21655
Telephone: (800) 873-3763
Website
Pennsylvania Bureau of Forestry (Penn Nursery) 
137 Penn Nursery Rd
Spring Mills, PA 16875
Telephone: (814) 364-5150
Tennessee Division of Forestry 
East TN Nursery
9063 Hwy 411
PO Box 59, Delano, TN  37325
Telephone: (877) 868-7337
Website
 Virginia Department of Forestry
Augusta Forestry Center
90 Forestry Lane
Crimora, VA 24431
Telephone: (540) 363-7000
Website 
Private Nurseries
ArborGen Inc.
2011 Broadbank Court
Ridgeville, SC 29472
Phone: (843) 851-4129
Fax: (843) 832-2164
Servicing PA, MD, VA, and WV
RPM Ecosystems LLC
Contact: Leslie Carrere
2150 Dryden Road
P.O. Box 6
Dryden, New York 13053-9998
Phone: (607) 844-9590
Fax: (607) 844-9591
Toll Free: 1 (888) 776-9590
Williams Forestry & Associates
Contact: Rick Williams
P.O. Box 1543
377 Sunset Dr Se
Calhoun, GA 30701
Phone: (706) 629-0353
Cell: (404) 229-0598
E-mail: rjwfa@mindspring.com
Itasca Greenhouse, Inc.
Contact: William Sayward
26385 Blackwater Road
PO Box 273
Cohasset, MN 55721
Phone: (218) 328-6261
Fax: (218) 328-9843
Toll Free: 1 (800) 538-8733
E-mail: info@itascagreenhouse.com
If you would like your nursery added to this list, please contact seggerud@osmre.gov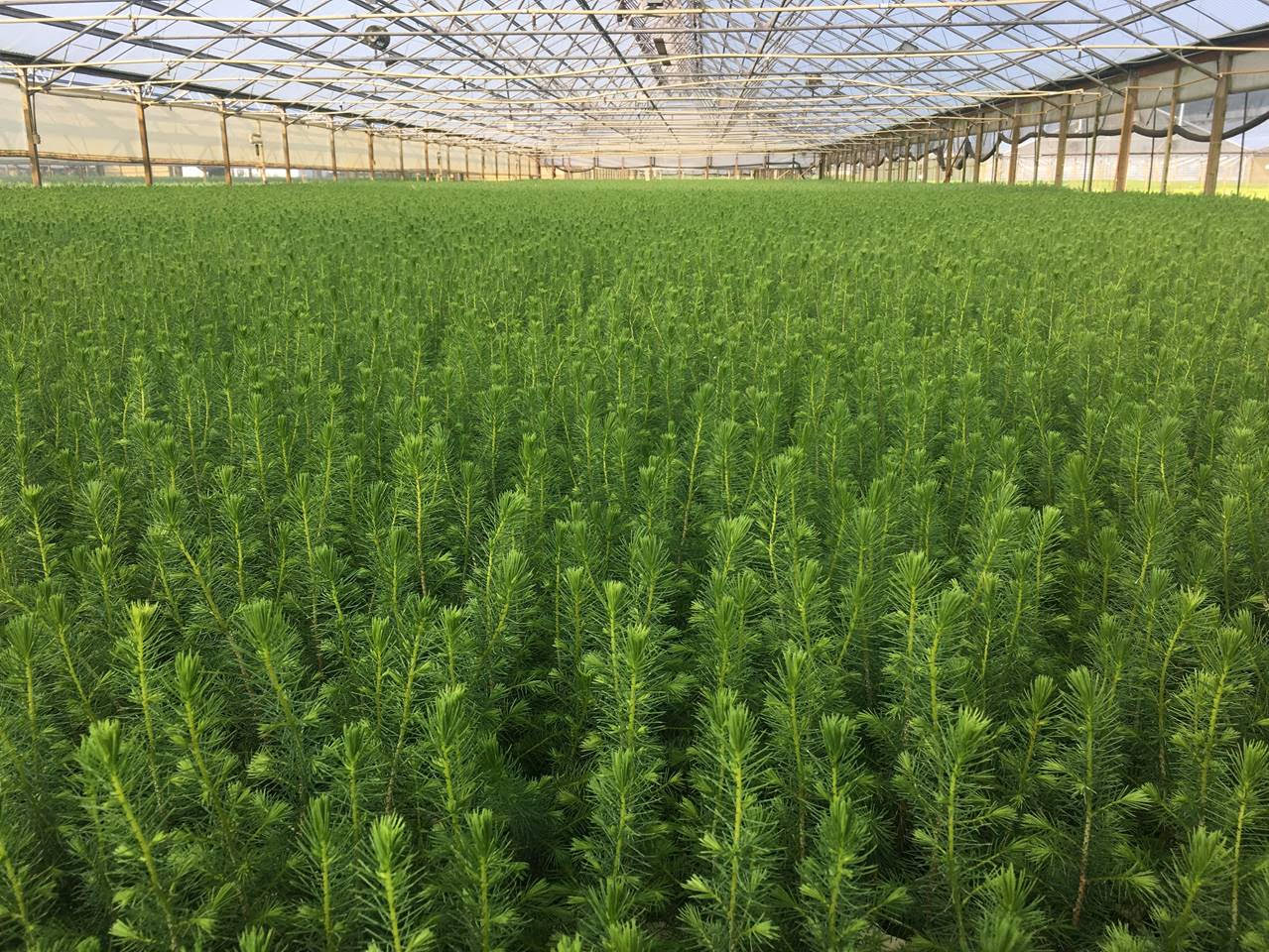 For More Information
ARRI was established in early 2004 with the formation of the Core Team. The mission of the team includes:
To develop a Statement of Mutual Intent in order to clarify the goals of the initiative and to make a pledge between the ARRI partners to promote the re-establishment of forestland on mine sites in Appalachia.
To serve as a contact for outreach, trainings, event planning, monthly meetings to discuss progress reports and new strategies.
Core Team Members
Scott Eggerud - OSMRE Team Leader
Office of Surface Mining Reclamation and Enforcement
State and Federal Programs Branch
P. O. Box 703
Ona, WV 25545
(412) 266-0726
(304) 633-5263 (alternate)
seggerud@osmre.gov
Eric Oliver - State Team Leader
Pennsylvania Department of Environmental Protection
Bureau of Mining Programs
186 Enterprise Drive
Philipsburg, Pennsylvania 16866
Phone: (814) 342-8126
eoliver@pa.gov
OSMRE Contacts
Appalachian Region
Scott Eggerud (see above)
Cliff Drouet - ARRI Forester
Office of Surface Mining Reclamation and Enforcement 
Lexington, KY
Work phone: 303-549-7249
Work email: cdrouet@osmre.gov
Jim Taitt 
Office of Surface Mining Reclamation and Enforcement
3 Parkway Center
Pittsburgh, PA 15220
Work phone: 412-937-2106
Work email: jimtaitt@osmre.gov 
Mid-Continent Region 
Frank McCoy
Office of Surface Mining Reclamation and Enforcement
501 Belle Street, Suite 216
Alton, IL  62002
Work phone: 618-463-6463 ext. 5126
Work email: fmccoy@osmre.gov
Headquarters
Josh Rockwell 
Office of Surface Mining Reclamation and Enforcement
1951 Constitution Avenue NW
Mail Stop 202 Washington, DC 20240-0001
(202) 208-2633
jrockwell@osmre.gov
State Agency Contacts
ALABAMA
Mike Jones
Alabama Surface Mining Commission
P.O. Box 2390, Jasper, AL 35502-2390
(205) 221-4130
mike.jones@asmc.alabama.gov
Jennifer Nicholson
Office of Surface Mining Reclamation and Enforcement
135 Gemini Circle Suite 215
Homewood AL 35209
(205) 290-7288 ext.1400
jnicholson@osmre.gov
KENTUCKY
Jennifer Turner
300 Sower Blvd., 2nd Floor CSE
Frankfort, KY 40601
(502) 782-7177
Jenniferl.turner@ky.gov
Emily Lawson
Division of Mine Reclamation and Enforcement
Department for Natural Resources
300 Sower Blvd
Frankfort, KY 40601
502-782-7199
emilym.lawson@ky.gov
Thomas Barbour
Division of Mine Permits 300 Sower Blvd.
Frankfort KY 40601
502-782-6549
thomas.barbour@ky.gov
Joel S. Whisman
Division of Abandoned Mine Lands
300 Sower Blvd.
Frankfort, KY 40601
(502) 782-6804 (Office)
(606) 594-4549 (Cell)
joel.whisman@ky.gov
Owen Michels
KY Division of Mine Reclamation and Enforcement
502-782-7199
owen.michels@ky.gov
Courtney Mastin
Office of Surface Mining Reclamation and Enforcement
Lexington Field Office
2675 Regency Road
Lexington, Kentucky 40503
(859) 260-3912
cmastin@osmre.gov
MARYLAND
Mark Carney
Water Resources Engineer
Maryland Department of Environment
Water Management Administration
Mining Program
Bureau of Mines Division
Frostburg, Maryland 21532
(301) 689-1464
mcarney@mde.state.md.us
Matt Rowley 
Environmental Compliance Specialist III
Maryland Department of Environment
Bureau of Mines Division
Frostburg, Maryland 21532
(301) 689-1444
matthew.rowley@maryland.gov
Stefanie Miller
Office of Surface Mining Reclamation and Enforcement
3 Parkway Center
Pittsburgh, PA 15220
(412) 952-0850
smiller@osmre.gov
OHIO
Mike Bowden
AML Projects and eAMLIS Coordinator
Division of Mineral Resources Management
Ohio Department of Natural Resources
2045 Morse Road, H-2
Columbus, Ohio 43229
614-265-6790
Michael.bowden@dnr.ohio.gov
Steven Roberts
Office of Surface Mining Reclamation and Enforcement
Pittsburgh Field Office
3 Parkway Center
Pittsburgh, PA 15220
(614) 230-1488
sproberts@osmre.gov
PENNSYLVANIA
Eric Oliver (see above)
Mike Stayrook
Pennsylvania Department of Environmental Protection
Bureau of Abandoned Mine Reclamation
286 Industrial Park Road
Ebensburg, PA 15931
Phone: (814) 472-1888
mstayrook@pa.gov
Michael Myers
Reclamation Specialist
Office of Surface Mining Reclamation and Enforcement
3 Parkway Center
Pittsburgh, PA 15520
717-919-3709 (cell)
mmyers@osmre.gov
Christian Canary
Office of Surface Mining Reclamation and Enforcement
Pittsburgh Field Office
3 Parkway Center
Pittsburgh, PA 15220
Phone: (814) 341-2926
crcanary@osmre.gov
TENNESSEE
William DeBord
Office of Surface Mining Reclamation and Enforcement
Knoxville Field Office
710 Locust Street, 2nd floor
Knoxville, Tennessee 37902
(865) 545-4103 ext. 185
wdebord@osmre.gov
VIRGINIA
Lawrence Tankersley, Co-Team Leader
Virginia Department of Mines, Minerals and Energy
Division of Mined Land Reclamation
P.O. Drawer 900
Big Stone Gap, Virginia 24219
(276) 523-8204
Lawrence.Tankersley@dmme.virginia.gov
Jared Worley
Minerals Specialist I
Virginia Department of Mines, Minerals and Energy
Division of Mined Land Reclamation
P.O. Drawer 900
Big Stone Gap, VA 24219
276 523-8185
Jared.worley@dmme.virginia.gov
Cody Zirkle
Reclamation Specialist
Office of Surface Mining Reclamation and Enforcement
1947 Neeley Road, Suite 220
Big Stone Gap, VA 24219
276-523-0000 ext. 20
szirkle@osmre.gov
WEST VIRGINIA
Kevin Quick
West Virginia Department of Environmental Protection
Division of Mining and Reclamation
601 57th Street SE, Room 2136
Charleston, West Virginia 25304
(304) 926-0499 ext. 1508
kevin.g.quick@wv.gov
Greg Mitchell
Reclamation Specialist
Office of Surface Mining Reclamation and Enforcement
1027 Virginia Street East,
Charleston, WV 25301
304 347-7158
gjmitchell@osmre.gov