Appalachian Regional Reforestation Initiative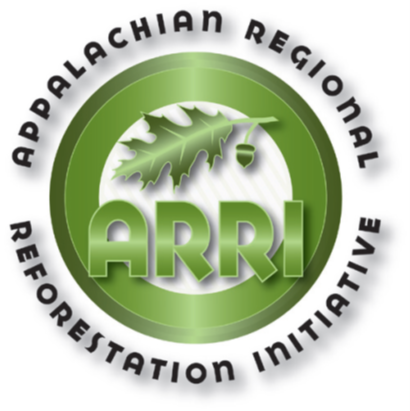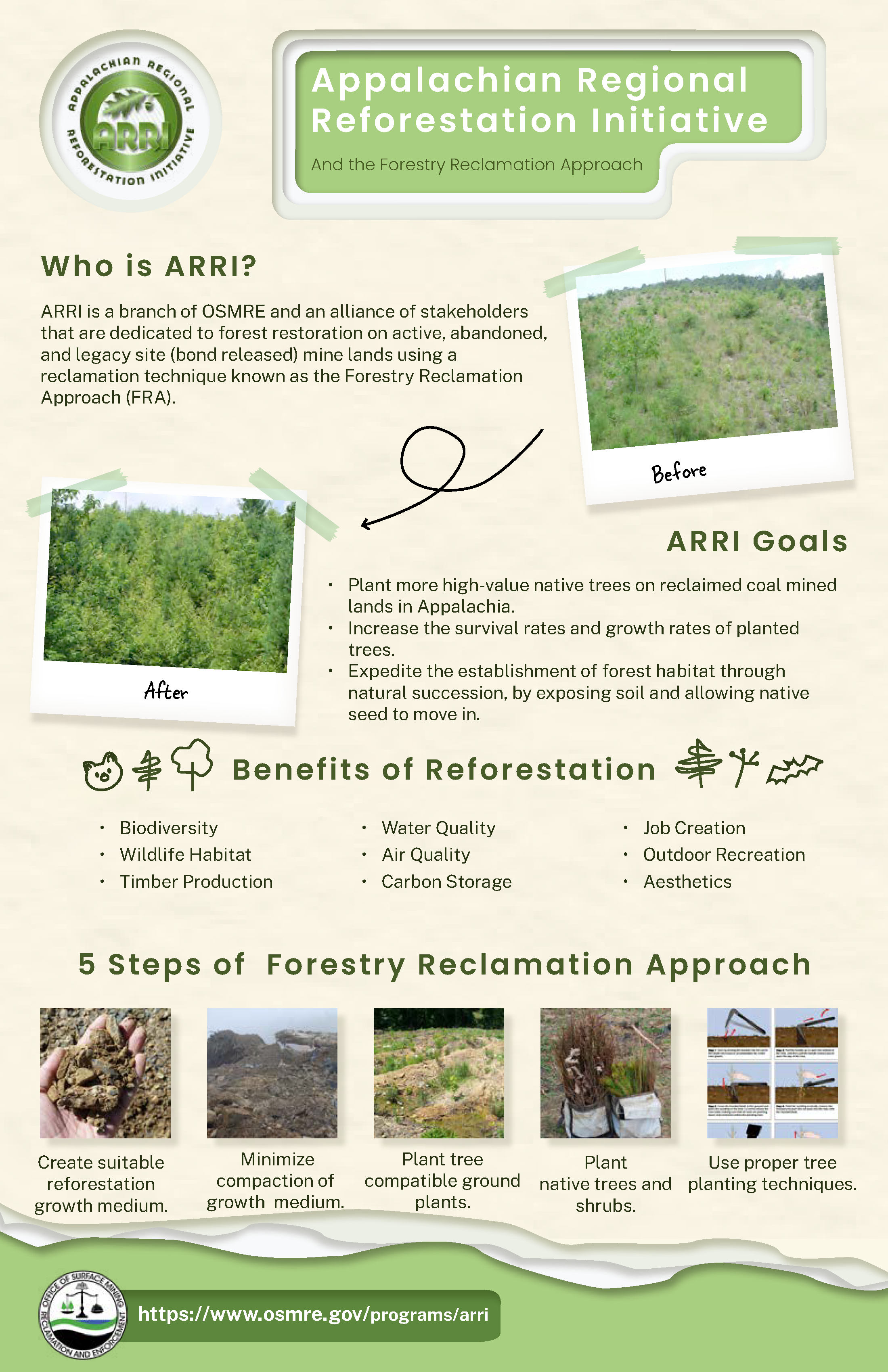 The Appalachian Regional Reforestation Initiative (ARRI) is a coalition of groups, including citizens, the coal industry, and government dedicated to restoring forests on coal mined lands in the Eastern United States.
ARRI is a cooperative effort between OSMRE, state agencies in Alabama, Kentucky, Maryland, Ohio, Pennsylvania, Tennessee, Virginia, and West Virginia, industry partners, environmental organizations, academia, and landowners.
ARRI advocates using a technique known as the Forestry Reclamation Approach (FRA) to plant trees on coal mined lands. Highly productive forests can be created on reclaimed mine lands under existing laws and regulations by using the Forestry Reclamation Approach.
ARRI works on three categories on mine lands; Active Mining Operations, AML projects (Abandoned Mine Lands), and Legacy Sites (previously mined and reclaimed sites where reforestation opportunities exist). 
The goal of ARRI is to:
Plant more high-value native trees on coal mine lands in Appalachia

Increase the survival rates and growth rates of planted trees

Expedite the establishment of forest habitat through natural succession
Why is ARRI important?
Trees are a renewable resource and a good investment. High-quality timber can offer substantial revenue for landowners and job opportunities for local residents. 
Trees are environmentally important. They minimize soil erosion, remove carbon dioxide from the air, provide wildlife habitat and diverse plant species, and help to conserve water resources. 
Reforestation restores our forests which are important recreational areas for hunting, hiking, mountain biking, camping, bird watching, backpacking, and ATV riding.
ARRI seeks to change the existing Cultural, Technical, and Regulatory barriers surrounding the forestry reclamation of coal mined lands.
Cultural: 

change the perception that tree planting is more expensive and riskier than conventional reclamation, provide education on the impacts of compaction, and change the perception of what good forestry reclamation should look like

Technical: 

eliminate excessive surface compaction, ground cover competition, and inappropriate growth medium; plant high value native trees

Regulatory:

 change the perception that regulations impede effective reforestation techniques and interfere with bond release
ARRI FRA Planting Sites within Appalachian Regions 1 and 2
This interactive map is a work in progress and is being updated as ARRI partners provide data. If any omissions are noted, or if corrections or additional information is needed, please contact gis@osmre.gov.  Please note: on active mining operations the coal industry plants the trees and shrubs, on AML projects the state AML programs plant the trees and shrubs, and on legacy sites, ARRI fiduciary partners plant the trees and shrubs.
Upcoming Tree Planting Events
Are you interested in attending an ARRI tree planting event this spring? Events will be taking place across the Appalachian Region.
View the 2023 Legacy Site Tree Planting Schedule.