Environmental Justice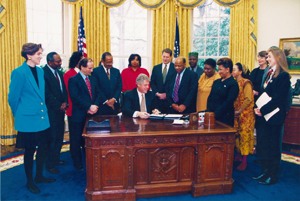 President Clinton signing the EJ Executive Order in 1994.
The Vision of Environmental Justice
To provide outstanding management of the natural and cultural resources entrusted to us in a manner that is sustainable, equitable, accessible, and inclusive of all populations.
Environmental Justice Strategic Actions
To read the DOI Environmental Justice Strategic Plan, as well as Implementation Progress Reports, please visit the DOI Environmental Justice webpage. 
To learn about the collaborative federal efforts to promote environmental justice, visit the Federal Environmental Justice Interagency Working Group (IWG) webpage.