OSMRE presents Texas with 2022 Small Projects Abandoned Mine Land Reclamation Award
Date: October 18, 2022
Contact: getinfo@osmre.gov (202) 208-2565
Texas awarded Small Projects AML Reclamation Award
WASHINGTON – The Office of Surface Mining Reclamation and Enforcement honored the Railroad Commission of Texas, Surface Mining and Reclamation Division, during the National Association of Abandoned Mine Land Programs conference in Grand Junction, Colorado, on October 17. Texas won the Small Project Award for reclamation work in Center.
"The Abandoned Mine Land Reclamation Awards honor the best examples of AML reclamation in our nation," said Paul Ehret, OSMRE Interior Regions 3, 4 and 6 acting regional director. "Our state and Tribal partners work hard to remove safety hazards and reclaim former coal communities."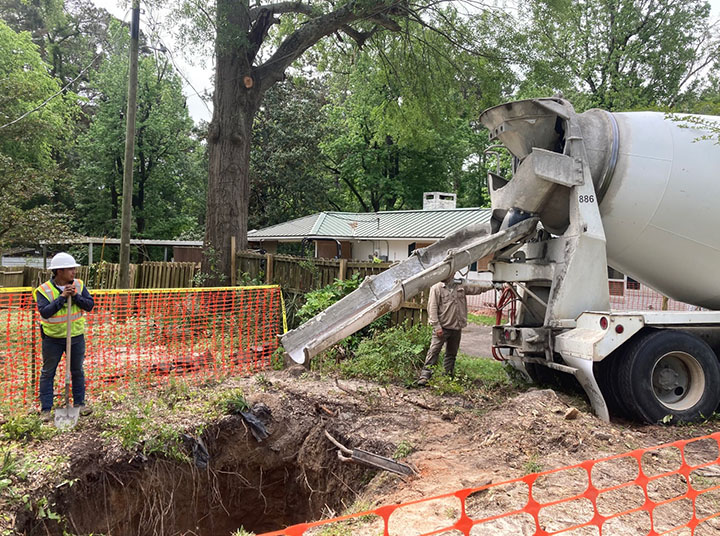 In 2016, the Texas AML program was contacted regarding a sink hole that suddenly appeared within five feet of a residence in Center. In the late 19th and early 20th century, coal mining was a major economic driver in Texas. Mines in East Texas were dug beneath the surface using room and pillar mining techniques. The remains of mined-out "rooms" are typically 3-6 feet in depth and 6-10 feet in diameter. Following inspection, the residence and adjacent area were declared an emergency, authorizing the AML program to initiate reclamation under expedited procedures. Using the expertise of other AML programs allowed Texas to develop a scope of work that factored in flexibility in the field and to address unexpected developments. Texas's AML program has been contacted by additional families living with subsidence undermining their homes' foundations. Lessons learned from this project will be employed in subsequent projects.
"We are thankful for the Small Projects Abandoned Mine Lands Reclamation Award and OSMRE's recognition of the outstanding effort our team provides to protect communities in Texas," said Brent Elliot, the Railroad Commission's Surface Mining and Reclamation Division director. "The Railroad Commission takes great pride in our work, and reclamation sites like this one —no matter the scale of the project— demonstrate our program's dedication to environmental stewardship and ensuring public safety." The Abandoned Mine Land Reclamation Awards, established in 1992, recognize exemplary state and Tribal reclamation projects that reclaim coal mine sites that were abandoned prior to the signing of the Surface Mining Control and Reclamation Act of 1977.
Texas is among five recipients of the 2022 Abandoned Mine Land Reclamation Awards recognizing reclamation excellence. A National Award is presented to the state or Tribe with the best overall reclamation project. A Small Project Award is presented to the state or Tribe that receives less than $6 million annually in AML funding and completes a project costing less than $1 million. Regional awards are presented to the state or Tribe with the best project within each of the following regions: Appalachian States, Interior States, and Western States and Tribes.
Other Award-Winning Reclamation Projects
Anthracite Outdoor Adventure Area – Bear Valley
Pennsylvania Bureau of Abandoned Mine Reclamation
REGIONAL AWARDS
Big South Fork Slide Repair
Kentucky Division of Abandoned Mine Lands
Sugar Ridge Fish & Wildlife Area
Indiana Abandoned Mine Land Program
Western States and Tribes Award
Hanna Football Field, Track & Elementary School
Wyoming Abandoned Mine Land Division
To learn more about these award-winning projects, please visit AML Reclamation Awards.
– OSMRE –
OSMRE carries out the requirements of the Surface Mining Control and Reclamation Act of 1977 in cooperation with states and Tribes. OSMRE's objectives are to ensure that coal mining activities are conducted in a manner that protects citizens and the environment during mining, to ensure that the land is restored to beneficial use after mining, and to mitigate the effects of past mining by aggressively pursuing reclamation of abandoned coal mine