OSMRE presents Kentucky with 2022 Appalachian States Region Abandoned Mine Land Reclamation Award
Date: October 18, 2022
Contact: getinfo@osmre.gov (202) 208-2565
Kentucky Awarded Regional AML Reclamation Award
WASHINGTON – The Office of Surface Mining Reclamation and Enforcement honored the Kentucky Division of Abandoned Mine Lands during the National Association of Abandoned Mine Land Programs conference in Grand Junction, Colorado, on October 17. Kentucky won the Appalachian States Award for reclamation work at Big South Fork National River and Recreation Area in McCreary County, Kentucky.
"The Abandoned Mine Land Reclamation Awards showcase exceptional reclamation projects done by our state and Tribal partners," said OSMRE Appalachian Regional Director Tom Shope. "These winning projects set the standard for reclamation and what is possible in transforming former coal communities."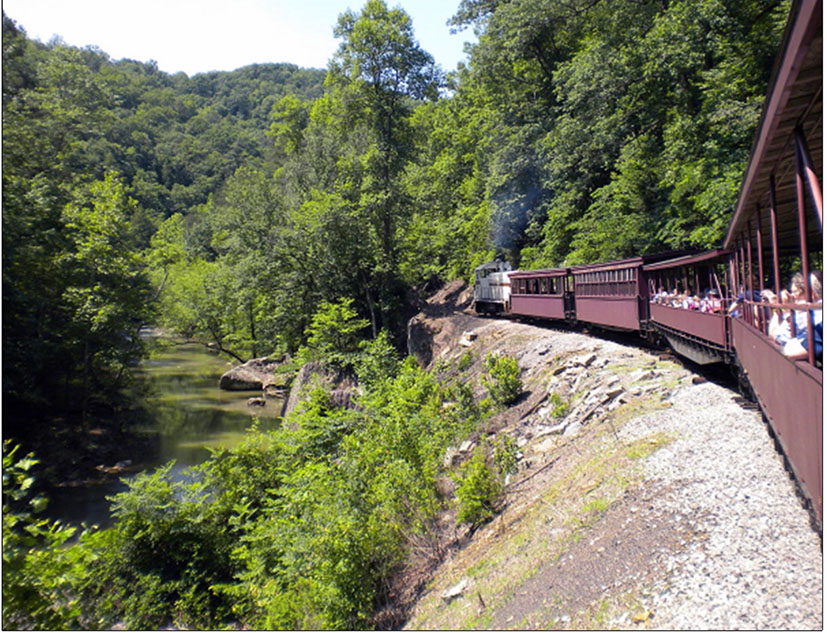 In the early 1900s, McCreary County was home to 18 mining camps built by the Stearns Coal and Lumber Company that helped power the country and provided jobs to the community. Today, the local economy is fueled by tourism. A large portion of the Big South Fork Scenic Railway had subsided three feet, rendering that section of the track impassible by train and endangering the tourism-based economy. For nearly 15 months, the Kentucky Division of Abandoned Mine Lands managed the slide abatement, which included a 400 linear foot steel piling wall seated into the bedrock. The work done by Kentucky's AML program will ensure the safety of more than 22,000 passengers who ride the Big South Fork Railway each year.
"The Kentucky Division of Abandoned Mine Lands is humbled to receive this award. AML programs from across the region and the nation work diligently to protect citizens and abate hazards related to historic mining," said Justin Adams, director of Kentucky Division of Abandoned Mine Lands. "To have our work considered for recognition alongside so many
wonderful efforts, is a great honor. A myriad of our staff were involved in the development and implementation of the Big South Fork reclamation project. I am proud of each of them and pleased to see their dedication recognized through this award."
The Abandoned Mine Land Reclamation Awards, established in 1992, recognize exemplary state and Tribal reclamation projects that reclaim coal mine sites that were abandoned prior to the signing of the Surface Mining Control and Reclamation Act of 1977.
Kentucky is among five recipients of the 2022 Abandoned Mine Land Reclamation Awards recognizing reclamation excellence. A National Award is presented to the state or Tribe with the best overall reclamation project. A Small Project Award is presented to the state or Tribe that receives less than $6 million annually in AML funding and completes a project costing less than $1 million. Regional awards are presented to the state or Tribe with the best project within each of the following regions: Appalachian States, Interior States, and Western States and Tribes.
Other Award-Winning Reclamation Projects
Anthracite Outdoor Adventure Area – Bear Valley
Pennsylvania Bureau of Abandoned Mine Reclamation
AML Project TX000056
Texas Abandoned Mine Lands Program
REGIONAL AWARDS
Sugar Ridge Fish & Wildlife Area
Indiana Abandoned Mine Land Program
Western States and Tribes Award
Hanna Football Field, Track & Elementary School
Wyoming Abandoned Mine Land Division
To learn more about these award-winning projects, please visit AML Reclamation Awards.
– OSMRE –
OSMRE carries out the requirements of the Surface Mining Control and Reclamation Act of 1977 in cooperation with states and Tribes. OSMRE's objectives are to ensure that coal mining activities are conducted in a manner that protects citizens and the environment during mining, to ensure that the land is restored to beneficial use after mining, and to mitigate the effects of past mining by aggressively pursuing reclamation of abandoned coal mines