OSMRE presents Pennsylvania with 2022 National Abandoned Mine Land Reclamation Award
Date: October 18, 2022
Contact: getinfo@osmre.gov (202) 208-2565
Pennsylvania Awarded National AML Reclamation Award
WASHINGTON – The Office of Surface Mining Reclamation and Enforcement honored the Pennsylvania Bureau of Abandoned Mine Reclamation during the National Association of Abandoned Mine Land Programs conference in Grand Junction, Colorado, on October 17. Pennsylvania won the National Award for reclamation work performed at the Anthracite Outdoor Adventure Area in Northumberland County, Pennsylvania. The National Award is presented to the state or Tribe with the best overall reclamation project.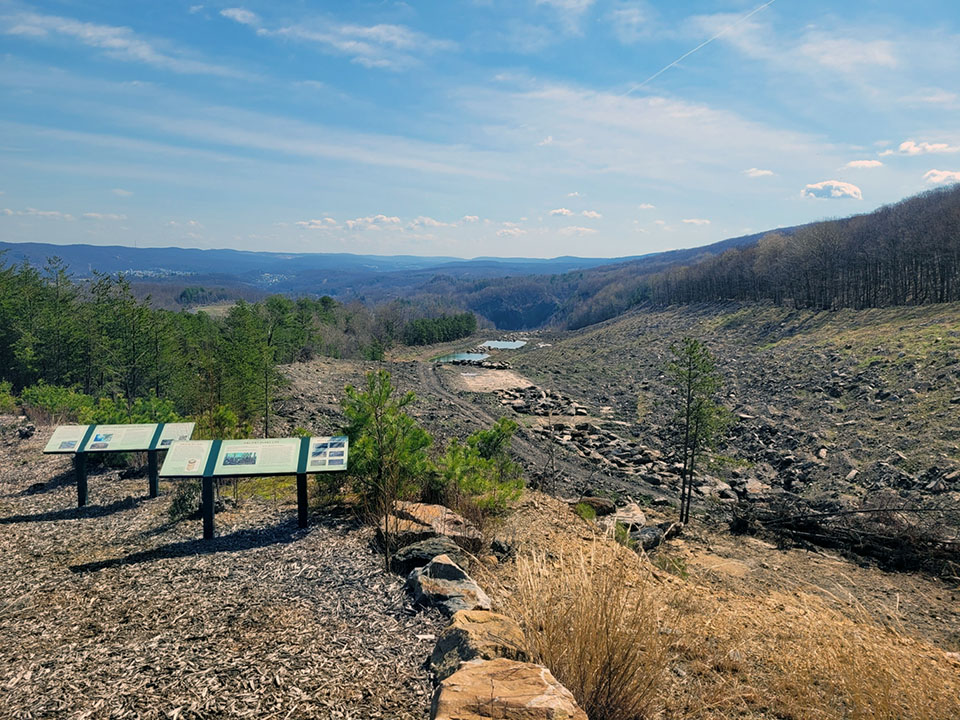 "The Abandoned Mine Land Reclamation Awards honor the best examples of AML reclamation in our nation," said OSMRE Appalachian Regional Director Tom Shope. "Our state and Tribal partners work hard to remove health hazards and reclaim former coal communities. These awards showcase what is possible in reinvigorating former coal communities."
The 88-acre project reclaimed six abandoned mine land features and constructed 6,600 feet of extreme rock-crawling and more than 9,000 feet of all-terrain vehicle trails. The rock-crawling trails include boulders that act as obstacles for modified four-wheel drive vehicles such as trucks, Jeeps, and "buggies" to traverse. The trails include pull-offs and mud pits to navigate. This AML project showed the best of reclamation practices by eliminating health and safety hazards, providing an innovative recreational resource for surrounding states and revitalizing the local economy through increased use of local businesses.
"It's extremely exciting that Pennsylvania is being recognized for the National Award. As far as I'm aware, the project includes the largest man-made rock crawling feature of its kind anywhere in the country. The transformation from a hazardous AML site to a world-class attraction is already showing local job creation and improving economic conditions for this part of PA's coal region," said John Stefanko, deputy secretary, Pennsylvania Department of Environmental Protection, Office of Active and Abandoned of Mine Operations. "The project is a testament to DEP's partners at AOAA, the landowners, Morgan's Excavating, LLC the on-site contractor, OSMRE, and the staff in the DEP and Bureau of Abandoned Mine Reclamation that had a part in the project. It takes a team working collaboratively and cooperatively to achieve results like this."
The Abandoned Mine Land Reclamation Awards, established in 1992, recognize exemplary state and Tribal reclamation projects that reclaim coal mine sites that were abandoned prior to the signing of the Surface Mining Control and Reclamation Act of 1977.
Pennsylvania is among five recipients of the 2022 Abandoned Mine Land Reclamation Awards recognizing reclamation excellence. The Small Project Award is presented to the state or Tribe that receives less than $6 million annually in AML funding and completes a project costing less than $1 million. Regional awards are presented to the state or Tribe with the best project within each of the following regions: Appalachian States, Interior States, and Western States and Tribes.
Other Award-Winning Reclamation Projects
AML Project TX000056
Texas Abandoned Mine Lands Program
REGIONAL AWARDS
Big South Fork Slide Repair
Kentucky Division of Abandoned Mine Lands
Sugar Ridge Fish & Wildlife Area
Indiana Abandoned Mine Land Program
Western States and Tribes Award
Hanna Football Field, Track & Elementary School
Wyoming Abandoned Mine Land Division
To learn about these award-winning projects, please visit AML Reclamation Awards.
– OSMRE –
OSMRE carries out the requirements of the Surface Mining Control and Reclamation Act of 1977 in cooperation with states and Tribes. OSMRE's objectives are to ensure that coal mining activities are conducted in a manner that protects citizens and the environment during mining, to ensure that the land is restored to beneficial use after mining, and to mitigate the effects of past mining by aggressively pursuing reclamation of abandoned coal mines.